A simple and convenient cash flow management tool
Whether you grow crops or raise livestock, we know your farming operation faces unique challenges throughout the year. FarmCash is more than just a cash advance, it is a cash flow management tool designed to improve the long-term profitability of your operation.
FarmCash provides you with marketing flexibility when selling your commodity, low interest-savings, risk mitigation in the growing season, and by providing opportunities to make wise investments.
Spring Application Update
FarmCash has been experiencing a higher than expected volume of inquiries resulting in challenges in meeting our promise of responsive customer service. To address this, we have added additional support. For immediate assistance regarding your application please call the main FarmCash line at 1-855-376-2274 or email farmcash@albertawheat.com.
Apply for up to $1 million on over 50 commodities including all major crops, livestock and honey
The first $350,000 is interest-free
Remainder at TD prime minus 0.75%
Convenient online application saves time, money and paperwork
Access your funds in as little as 3-5 business days*
*Based on submission of a completed application.
Who can apply?
FarmCash is available to producers across Western Canada — B.C., Alberta, Saskatchewan and Manitoba.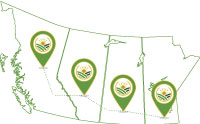 Apply without needing to leave your farm!
Use our simple online application, or apply by mail, fax or phone.
The online portal allows you to view your up-to-date account information.
Manage your application online and safely store your progress throughout the process until you're ready to submit your application.
Online features like the e-signature function, loan calculators, and the ability to auto-populate information from your previous application make it easier than ever to apply.
Dedicated account managers are available to help guide you through the program year.
Commodity Rates & Fees
Explore our 50+ qualifying commodities, commodity rates & our no hidden fee structure.
How FarmCash Works for You
Learn more about how FarmCash can help improve your long-term profitability and financial stability.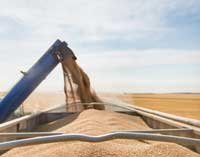 Support & Contact
Questions about FarmCash? We're here to help.